Pediatric Dental Emergency?
Our pediatric dentists in Richland can help!
We're
only a phone
call away!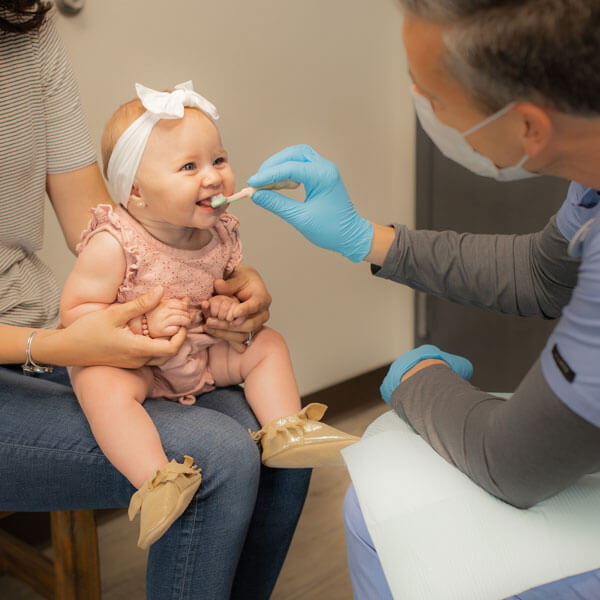 Need to Contact a Pediatric Dentist ASAP?
If your child is experiencing any of the following, call us as soon as possible:
Knocked-out permanent tooth
Chipped, fractured, or broken tooth
Toothache pain or pressure
Dental abscess
Tooth sensitivity
Lost or loose filling
We'll do everything possible to get your child in right away and/or provide instructions on what to do next.
What Should I Do in a Dental Emergency?
Here are
some quick tips
that every parent should know!
If your child's baby tooth is knocked out, it does not usually cause problems or require treatment. Contact us during regular business hours.
If your child has had a permanent tooth knocked out, see our pediatric dentists immediately!
If possible, find and save the tooth, then follow these tips:
Hold it by the crown, not the root
Rinse the tooth with water, but do not clean with soap
If the tooth is not cracked or damaged, try to put it back in the original socket and have your child hold it in place by biting on gauze
If you cannot put the tooth back in its socket, put it in a cup containing your child's saliva or milk
If your child has chipped or cracked a tooth, contact our Richland, Kennewick, or Sumner pediatric dentists immediately.
Rinse your child's mouth thoroughly with water. If fragments have broken off, save them and bring them with you to the dentist.
If you do not take any action, the tooth could become infected and require extensive dental treatment.
If your child has a sore tooth, try these tips:
Gently clean the area
Use floss to clear out any food that may be stuck in or near the tooth
Have them rinse their mouth with warm water or warm saltwater
Do not apply heat to the gum or tooth
If the pain persists for more than a day, please contact your nearest Smile Surfers office for additional treatment options.
Has your child bitten their tongue, lip, or cheek, or is there a cut in their mouth? Apply firm but gentle pressure with a clean cloth or gauze to stop the bleeding. Then apply ice to the area to reduce swelling and relieve pain.
If the bleeding does not stop, call a doctor, or take your child to urgent care or an emergency room.
Why Parents Choose Us for Children's Emergency Dentistry
Even in times of distress, we can help your little surfer smile again.
Dental emergencies don't stick to a schedule. We'll do our best to see your child on the same day and provide the necessary treatment.
If you need help after business hours, call us at (509) 946-9999 and follow the automated prompts. We'll advise you on what to do until we can see you.
We'll help your child get out of pain ASAP. If they need treatment, we'll use our gentle techniques and anesthetic or sedation to keep them comfortable and at ease.
All of our pediatric dental office locations offer before-and-after school appointment times. We also provide various financial solutions and accept dental insurance.
Your child's experience at the dentist is crucial for combatting fears and establishing life-long healthy habits. This is especially true when they are in pain or experiencing a dental emergency.
Our "Surf Instructors" focus on preventive care, meaning we help your little surfer protect their teeth from future dental problems with effective, long-lasting treatments and education.

FAQs About Dental Emergencies
Curious? Check out the answers below!
What pediatric dental emergency services do you offer?
Our emergency dental services include:
Treatment for tooth pain or pressure
Treatment for knocked-out teeth
Emergency extractions
Emergency repair of chipped, fractured, or broken teeth
Fillings
Crowns
Baby root canals
Can I go to the ER for a dental emergency?
If your child's emergency is life-threatening, such as uncontrolled bleeding or a broken jaw, call 911 or go to the emergency room.
Otherwise, we recommend calling our pediatric dentists.
The reason for this is that most hospitals don't have dental professionals on staff, so the most they can do is provide treatment for pain and infections. Your child will then need to visit us afterward to take care of the dental problem and prevent it from getting worse or reoccurring.
Going to the ER vs. a dentist for a dental emergency can end up costing you more, take more time, and worsen the outcome of the dental problem.
If possible, we request that you call us before coming in.
The cost of your child's visit will depend on what services are required.
Smile Surfers Kids Dentistry believes all children should have access to high-quality, affordable pediatric dentistry, which is why we accept:
Most dental insurance plans
Cash and major credit cards
Financing through CareCredit
Will the procedures hurt?
Pediatric emergency dentistry is meant to help your child get out of pain, not make the pain worse.
You can feel confident knowing our board-certified pediatric dentists and team have specialized training in pain management for children. From gentle techniques to kid-friendly language, we do everything in our power to put them at ease and earn his/her trust.
How can I prevent a dental emergency?
Great news! Most dental emergencies can be easily prevented with good oral hygiene and avoiding accident-prone habits, including:
Brushing teeth twice per day
Replacing the toothbrush every three months
Flossing once per day
Consult a dentist as soon as you notice a dental problem (don't delay this)
Visiting the dentist for regular exams and cleanings
Completing recommended dental treatments
Wearing a mouthguard during sports
Not using your teeth as tools (like opening packages)
Not chewing on hard objects (like ice or pencils)
Eating a balanced diet (avoiding too much sugar)
Drinking enough water
Call Us For Pediatric Dental Emergency Care
Our services are available to new and current patients in the Tri-Cities!